Sports Chiropractic at Ginkgo Health Studio
Better, Stronger, Faster
Regular chiropractic care optimizes your nervous system so that whatever "tool" (body part) you use to do your sport is properly connected to your brain in a way that makes everything better, stronger and faster. If every part of your body is communicating properly with your brain, you'll be a level up from competitors who don't have a fully connected nervous system.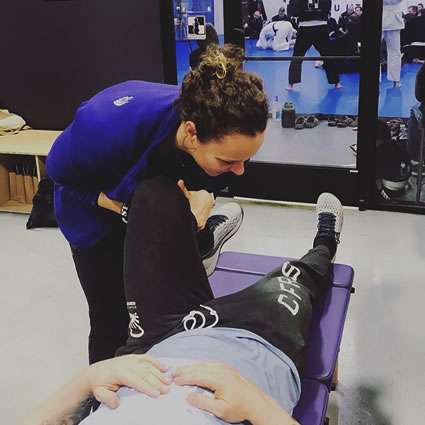 Injury Recovery
Dr. Erin's favorite question is, "How does chiropractic care help me recover from an injury?" Research has shown that there is an emotional/mental component to injury, in addition to the more obvious physical component. The longer the physical recovery takes, the more difficult the emotional aspect becomes.
Chiropractic care reduces physical recovery time by directly correcting the underlying condition. This gets you feeling better faster than without chiropractic care, so you can get back to your game. Reducing physical recovery time also improves the mental and emotional part of the journey, so chiropractic care helps keep both body and mind functioning as they should. And it's been found that regular chiropractic care significantly reduces the incidence of major injury.
Our Approach
At Ginkgo Health Studio, we offer a broad approach to your care. With her extensive background in the mechanics and physics of the body, Dr. Erin is able to tailor care specifically to your needs, aligning her extremely gentle adjustments in the smoothest and most effective manner. We also work on extremities, including common sports injuries to the joints of the arms and legs.
Dr. Erin works with the Lipscomb University baseball team regularly, as well as many collegiate basketball players, swimmers, and hockey players. With her background in biomechanics and sports medicine, she is able to help athletes achieve the motion needed to optimize a swing, whether for baseball, lacrosse, softball, or tennis. She also helps hockey players with their skate positioning.
Optimize Your Performance Today
Dr. Erin would love to help you perform at your highest level as well! Contact us today to schedule your first appointment.
CONTACT US

---
Sports Chiropractor Brentwood TN | (615) 730-6021